Practical Solutions – Buddhism's Scientific Methods
Buddha's teachings are scientific methods for improving our human nature and qualities through developing the capacity of our mind.
Gain practical experience of Buddhism and meditation
This tradition has a growing number of centres in over 40 countries around the world. Each centre offers special study programmes in modern Buddhism and meditation, taught by qualified Teachers. These programmes are based on the study of books by Venerable Geshe Kelsang Gyatso Rinpoche and are designed to fit comfortably with a modern way of life.
Everyone is welcome. There are different levels of study according to different people's interests, wishes and lifestyle.
Something for everyone
General Programme (GP)
Including practical advice and guided meditations, this accessible weekly programme of drop-in classes gives real insight into how Buddhist solutions can be applied in daily life.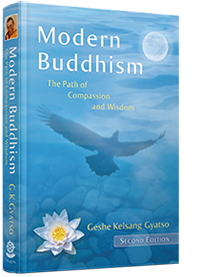 In recent years our knowledge of modern technology has increased considerably, and as a result we have witnessed remarkable material progress, but there has not been a corresponding increase in human happiness. There is no less suffering in the world today, and there are no fewer problems. Indeed, it might be said that there are now more problems and greater dangers than ever before. This shows that the cause of happiness and the solution to our problems do not lie in knowledge of material things. Happiness and suffering are states of mind and so their main causes are not to be found outside the mind. If we want to be truly happy and free from suffering, we must learn how to control our mind.
Modern Buddhism
One of the books studied on the General Programme
Foundation Programme (FP)
Building on experience gained in General Programme, the Foundation Programme provides an opportunity to deepen your understanding and experience of Buddhism through the systematic study of six texts.
Teacher Training Programme (TTP)
Through detailed study of Buddha's teachings, teaching skills classes and various retreat commitments, the Teacher Training Programme provides the opportunity to become a qualified Kadampa Teacher, and help others to realize their own potential. Some TTPs are also offered as correspondence courses.
Festivals and Courses
The New Kadampa Tradition also organizes local, national and international Buddhist Festivals and Dharma Celebrations throughout the year, where thousands of people gather to receive teachings from senior Teachers of the tradition and to enjoy the inspiration of spiritual friendship.